I phoned the machine shop today – the heads have now been skimmed and cleaned, and are ready to pick up. Nice and clean and shiny now!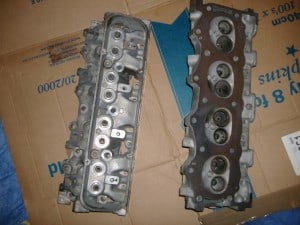 As for the rest of the engine, I've just got to clean up the outside of the block, then the sump, and it's all done – I can put all the bits to one side and forget about them until it's ready to be reassembled and installed. Thankfully – I'm starting to get fed up with constantly smelling of paraffin!
I also checked all the crank journal and piston sizes, no problems there – they're all well within tolerances. So that leaves me to get a new camshaft, followers, rockers and shafts, timing chain and gears, rings, bearings, gaskets and seals. It's not going to be cheap, but as I've said before, there's no point cutting corners here.
Next up after this: the gearbox!