OK. I know. There's been no posts from me now for over a year. How embarrassing.
There has been a reason, though: I've moved house. It was a fairly spur of the moment thing that we decided on in March last year (although we'd been thinking about it for a while), and we actually made the move at the end of April. We're now in a lovely house in the Warwickshire countryside, complete with a garage and a paddock. All very nice, but this meant that I was now 36 miles from where the car was. The plan was to move the car to the new garage by the house, but for various reasons that didn't happen until the end of July. I eventually got her loaded and ready for the move though: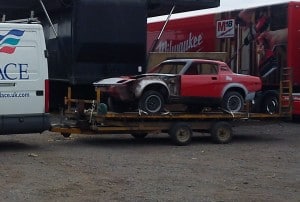 All done on the cheap, the van was borrowed from work and the trailer from the farmer at my old house. It made a fairly interesting drive, especially through the narrow lanes near our new house. Did I mention I've not really driven anything with a trailer for several years? 😮
Anyway, I got her home and into her new garage: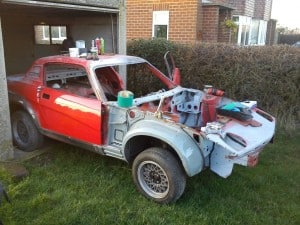 As you can see, I'm now right next to the house, so I've been able to get rid of the generator. It's nice to be able to work with power tools without having the (frankly noisy) generator running all the time!
Unfortunately, what with having a new home (and garden, and paddock) to sort out, I didn't really have much time to work on the car, so I decided to leave it for the year. And now here we are. I'll be putting some time into the car this year, the bulk of the bodywork is done now so I'm hoping to get her painted and start reassembly by the end of the year. I won't be able to start properly due to the cold weather for a couple of months, but I will soon make a start on stripping the underseal from the front arches. Watch this space!
Speaking of this space, it can't have escaped your knowledge (you're a smart bunch) that I've moved to a new blog. My old blogspot site was fine, but I'm trying to get all my personal stuff into one place, and chezred.com is it. There's plenty more on the site if you look around! Also, this blog (using WordPress software) gives me a lot more flexibility than the blogspot platform, I'll be tweaking things as I go, and adding new features and site layouts. All feedback is welcome!
At the moment I'm updating all the old posts – I've imported them from blogspot but the images are having to be done manually. If you look at an older post and there's no images showing, that means I haven't got to it yet to upload updated images.
To all the people that have followed me over from the old site, thanks for sticking around. I look forward to hearing from you all!