I've been working on the rear lights – a nice little job to do at home.
I started off rubbing down the metal part and spraying with silver paint: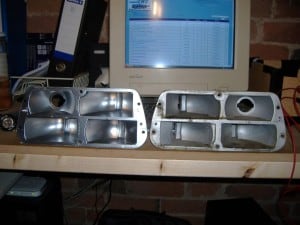 This has made a difference, although not a huge one: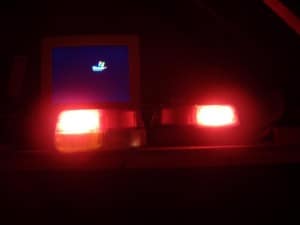 Just for the hell of it, I also painted the rears – I was never too keen on the unfinished aluminium look: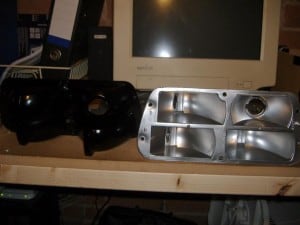 As my original lenses were cracked and a little bit tatty (although serviceable), I had a few spare lenses sitting in a box (for the life of me I can't remember where they came from!), so I picked the best pair out of them and gave them a bit of a clean. Even they were a little scratched, so I buffed them up a little with some rubbing compound to get the worst of it off. They came out alright in the end, although at some point I might get hold of some autosol and finish them off. I'm not going to obsess over that one too much though – polishing my light clusters is already far enough into concours territory! 🙂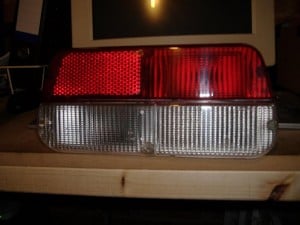 Meanwhile, at the garage, I spent a bit of time on Sunday cleaning up the new trailing arms I picked up from ebay. These were already painted, but were looking pretty tatty so I got to work.
First up was the bush removal – nice job that, anything that involves setting fire to stuff is always going to be great fun! Shame about the stink though.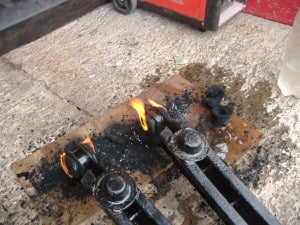 Then a bit of a session with the grinder to get the old paint off: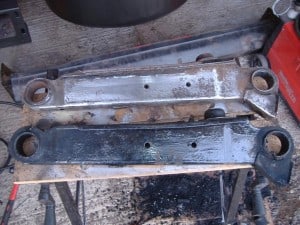 And they're ready for painting.
All that remains that I can do at the garage (until I can get the cash together for the parts I need – this month was blown on holiday flights, plus car insurance and RAC renewal) is bits of bodywork – filling and sanding the various dents and scrapes on the rear wings, finishing up the fuel filler bit, and finishing the boot area.
The boot has now been seam sealed and some of the sound deadening put in place, I just need to tidy up the seams, rub it all down and put on another coat of primer.
I've also been looking at wiring looms (long term I know, but I like to plan ahead). The rear loom is pretty knackered, with at least one wiring run looking like it's melted a bit, and the main loom is a mess of scotchloks and insulating tape. So it all needs replacing – new looms are pretty much unavailable and it'd be daft to bother putting a used one in there. I emailed a couple of companies over the weekend for quotes for a custom build to original spec, and they both came back to me to say they weren't interested. 🙁 So that means doing it myself. Thinking about it, that's not actually a bad option – it'll allow me to make some modifications to the wiring, and will hopefully save me a bit of cash. It looks like scary work though!