As promised, I was down at the garage tonight after work (gotta love these long evenings), and took a few pics of the sill: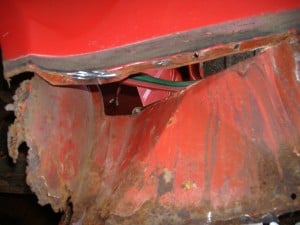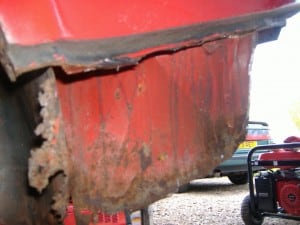 It's a mess alright! I figure maybe four new panels to make up and weld in, then make good all the rest, plus the new sill panel I'll need to buy. Having the panel off makes things a lot clearer, I can see exactly what I need to do now.
The old panel: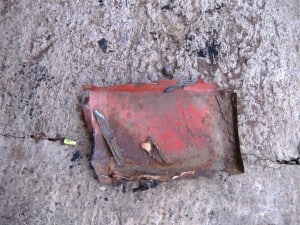 That's not going anywhere except the bin!
As I had the day off yesterday, I decided to take advantage of a special offer at S & S – they're getting rid of a stock of rear axles, at just £20 +VAT. Bargain! The last one I bought off ebay was useless – the tubes had somehow twisted round, making the suspension mounts out of alignment. That went to the scrappy…..
So off I went, I decided to take the scenic route, through the Peak District. Not the best idea as it turned out – I got stuck behind everything slow (sod all chance to overtake, either), and ended up taking about 4 hours to get there. After picking up the new axle (and them taking my old 4-speed off my hands – thanks guys!), I headed back. Apparently I'm a slow learner, because I headed back the same way. This time I got stuck in rush hour traffic – result, another 4 hours to get back.
Never mind, I had a nice day out driving (something I haven't done for a while), and got what I went for. As you'd expect for £20, it needs some work, but that's no problem.
Clearly been out of use for a while!
Cobwebs!